How Often to Replace a Car Battery

---
You may often hear auto experts recommend replacing a battery every 4-5 years, although there are a number of factors that can cause battery life to vary. Explore the signs you may need a new battery, as well as factors that can impact your battery life, at Smith Motor Sales of Haverhill's service center.
How to Know If Your Car Battery Needs to Be Replaced
If your battery is on its way out, some warning signs you may notice include:
Dimming headlights
More frequent need for engine revving or jump starts
Takes longer to start the engine when you turn the key/push the button
Unusual power fluctuations
What Causes Car Battery Deterioration?
Heat: Liquids inside a car battery will evaporate more quickly when exposed to extreme heat, so if you live in a more consistently hot climate your battery life will be inevitably shorter.
Vibrations: If your battery's hold-down clamps are loose, or you drive over rough streets or off-road regularly, vibrations will cause internal battery parts to break down faster.
Needing a Jump: Having your vehicle battery die and require a jump because an interior light was left on can shorten battery life significantly.
Time: A car battery can only go through so many charge cycles, so the death of your car battery is unavoidable, but proper care can prevent the battery from dying on you early.
Consult your owner's manual to get the most accurate time frame of how long you can expect your battery to last.
How to Test a Car Battery
When you visit our Portsmouth-area service center, you can ask to have your battery tested during regular maintenance. If you want to test it between that time, many retailers offer free tests or you can test the battery at home with a few easy methods.
The Headlight Test:
Turn on the engine, keep the car in park, and make sure the headlights are on.
Rev the engine and see if the headlight brightness changes.
If the headlights get brighter, that means the current is not strong enough to keep the lights at normal brightness while the car is idling.
Take your car to a service center at this point for further assessment.
Using a Digital Multimeter:
Set the voltmeter to 20 DC volts.
Under the hood, touch the black negative terminal with the black negative meter probe.
Touch the red positive terminal with the red positive meter probe
Have a friend turn on the headlights and check the voltmeter reading.
At 80℉, 12.5 volts or higher means your battery is fully charged. 12.3 volts means it's at about 75% charged.11.8 volts or lower means you have 25% or less charge.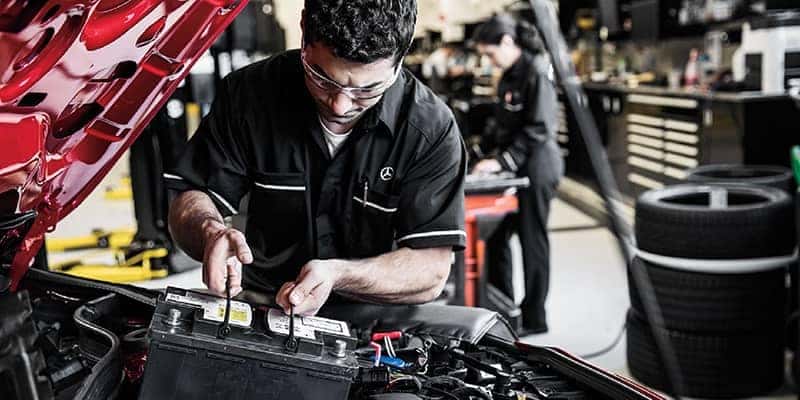 How Much is a Replacement Car Battery?
Typically, car batteries range between $75 and $120, and if you have a premium battery it could be up to $200. Because hybrid batteries have more work to do, they can cost anywhere between $1000 and $6000. Normally, this is offset by their much lower gas consumption.
Keep Your Vehicle in Top Shape at Smith Motor Sales of Haverhill
If you're in need of a new battery near Portsmouth, visit the Smith Motor Sales of Haverhill parts center! We can also do the work of replacing it for you at our service center!
More From Smith Motor Sales of Haverhill
Spacious and powerful, the Mercedes-Benz GLC dimensions and features make it a versatile entry into the luxury SUV category. Explore Mercedes-Benz GLC dimensions, as well as features like programmable side mirrors and power folding rear seats, that make your vehicle adapt to your needs. Then, when you're ready, check out our GLC inventory at Smith Motor Sales of Haverhill!…

Mercedes-Benz vehicles are more high-tech than ever, and the 2019 Mercedes-Benz C-Class is no exception. This elegant and accessible luxury sedan offers advanced features for entertaining drives and effortless control of the roads in Andover, MA and North Andover, MA. Explore C-Class technology at Smith Motor Sales of Haverhill! Learn More View Inventory Mercedes-Benz C-Class Convenience & Connectivity 12.3-inch digital instrument cluster: This digital…

The Mercedes-Benz is a luxury brand leader that continues to forge technological innovations. Their latest addition, the Mercedes-Benzmbrace®, is at the forefront of these innovations, giving Andover, MA drivers a more safe and convenient driving experience in the palm of their hands. Below we take a closer look at the unique features offered by the Mercedes-Benzmbrace®…